Croatia's Dubrovnik gives other rivieras a run for the money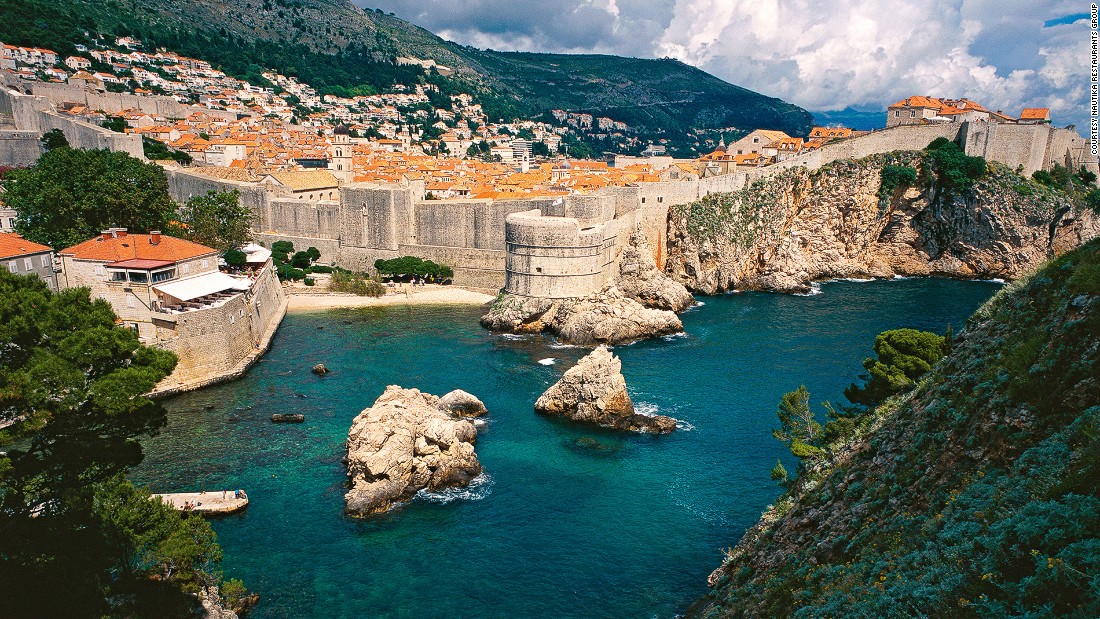 (CNN)For those who can afford them, the French and Italian rivieras have always been unbeatable destinations for anyone in search of sun, sea, sand and style. Or have they?
The 20-kilometer riviera is a silhouette of dramatic emerald mountains that tumble down to inviting bays overlooking royal blue seas.
The largest and best preserved in Europe, Dubrovnik's 14th-century city walls are nearly two kilometers long and 22 meters high.
A circumnavigation of the chunky walls offers photogenic views across the terracotta tops of the Old Town.
Jutting out on a fortified island, suspended at sea, the historic Dubrovnik Old Town is one of the most recognizable sights in Croatia.
Within it, baroque churches rub shoulders with centuries-old monasteries and palazzo.
A sea of red roofs shrouds whitewashed buildings, fringed by the azure Adriatic.
Arguably the best view on the Dubrovnik Riviera.
A short revolving cable car ride to Mount Srd reaches an elevation of 412 meters over Dubrovnik, which can be seen below, laid out like a map.
On a clear day, the hills of neighboring Montenegro and silhouettes of surrounding islands are visible.
The oldest cultural festival in Croatia is a mix of theater, ballet, classical music, opera and dancing in the streets.
The mountaintop route wends through vineyards and quaint waterfront villages. Antique churches, forested headlands, beach boats and cafes are all part of the scenery.
Mlini offers isolated beaches and dense greenery.
It served as the setting of King's Landing, capital of the Seven Kingdoms.
For those unfamiliar with the show, it's still a fun alternative tour that mixes fact with fiction.
Boutique villas are to Dubrovnik what riads are to Marrakech.
Often converted private residences, the luxury whitewashed villas blend into the landscape
Among them is Villa Dubrovnik, a spa with suites equipped with hot tubs overlooking the Adriatic.
It also has a stylish vaporetto speedboat for transfers to the Old Town.
Croatia may not be a name synonymous with wine, but it should be.
With wine-producing history dating back to around 2200 B.C., the industry flourished under the Greeks but was disrupted by the Ottoman invasion.
Things picked up again in 2010 with the creation of the Association of Croatian Wineries.
There are some 64 indigenous grape varieties producing Merlot, Syrah and Cabernet Sauvignon from the 1,000 or so wineries that scatter rural Croatia.
"Posip is the famous white wine from Korcula Island," says Tonci Nola, a manager at Villa Dubrovnik.
"A heavier option is the strong and bold-flavored Kuca Glavic from this Dubrovnik Riviera. Red-wine lovers should opt for Tribidrag, from the far north, for its powerful, full-bodied finish."
Fall is when the vineyards come alive and can be visited.
There's no shortage of restaurants with stellar views along the riviera, but only a few have food to match.
Among the best are Nautika's outlets — a distinctly Croatian group of waterfront and clifftop eateries.
Panorama is an intimate casual affair atop Mount Srd, reachable by the cable car, where local cheesecakes and sauteed fish can be enjoyed alongside views of the Old Town.
Flagship Nautika, regularly named among the world's most romantic restaurants, sits on a waterfront cliff edging the Dubrovnik's ancient fortifications.
Here, chef Mario Bunda serves Mediterranean flavors including lobster from the Dalmatian island of Vis and shrimp from the Adriatic.
Further along the Riviera, in Cavtat, there's a lineup of harbor front restaurants serving typically Croatian lamb chops and baked octopus.
With more than a thousand Croatian islands, the question is where?
And how — travelers can cross the Adriatic waters aboard anything from kayaks to sailboats.
Lokrum Island is easily accessed from Dubrovnik and is known for its Dead Sea-style salty lake, 12th-century Benedictine monastery and resident peacocks.
There are spotless beaches and picturesque harbors bordered by rolling hills and hidden coves on Korcula.
Mljet, accessible by boat from Dubrovnik harbor, promises adventure.
The Mljet National Park spans 3,100 hectares, with lakes and indigenous forests filled with hiking trails. Offshore are wreck sites for divers.
Betina Cave Beach is only accessible by swimming from a boat, kayak, or from land.
In the heat of summer, this beautiful spot provides a cool shelter, with pebble sands lapped by turquoise Mediterranean waters.
Clinging to a cliff and suspended over the sea, Buza Bar is a legendary location on the Dubrovnik Riviera.
It's a great spot to mingle with locals while watching magnificent sunsets. There are no signs, so finding the spot is half the fun.
The fjords and mountains of Montenegro are a stone's throw from Dubrovnik Riviera. A coastal road leads straight to the Bay of Kotor UNESCO World Heritage Site.
Dotted with tiny stone fishing villages and ornate homes, churches and islands, this is an unforgettable day trip.
The border of Bosnia and Herzegovina lies inland, but can also be explored in a day's outing.
Popular day trips include Mostar, for the iconic Stari Most, a 14th-century bridge.
There's a cobbled bazaar, ornate wooden balconies and towering mosque minarets that offer 360-degree city views.
Source: CNN.com
Read more: http://www.cnn.com/2016/07/05/travel/croatia-dubrovnik-riviera/index.html
Related articles